When it comes to catering beverages for your party, we have you covered. We bring you the bar, energetic mixologists, drinks of all sorts, and even a fun attitude. A bartender is not a simple autonomous drink mixer; He is the most important figure in the establishment. He must make patrons of the establishment feel welcome, secure, and relaxed. The bartender is a very powerful figure. Bartenders must keep their work area clean. Counter tops and tables must be cleaned with disinfectant,soap and water, outside furniture must also be wiped at the start of the day. Make sure people drink responsibly.
We know you want to have a good time at your event so why not hire the best and most unique beverage catering service in town? Add a splash of fun to your party by hiring the best mixologists in the Tri State area! X-Quisite LLC provides the most reliable and professional service while constantly staying on the cutting edge of mixology. Our highly skilled mixologists are creating some of the most innovative cocktails in the industry today and they're ready to serve you.
X-Quisite LLC is fully licensed and insured for liquor service with an abc liquor license. We also offer additional named insurance upon request at an additional charge. Every event is permitted within the county so all you need to worry about is having fun!
If you have any questions or special requests, please call our toll free number to talk to an event specialist or drop us an email at info@xquisitestaffing.com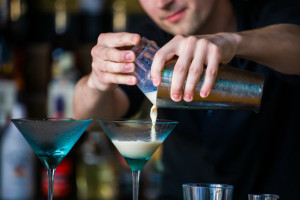 Bartending is the art of providing excellent service to each guest that enters the establishment. A good bartender is one who is always ready to greet a guest, accommodate to their needs and serve them with the utmost respect and professionalism. When providing service to a patron the bartender should always maintain a cheerful and upbeat attitude, be able to quickly take a guest's order, prepare the order and complete the transaction in a collected manner that's swift and precise. Make them as high as possible. Approach the guest as they enter the entry to your establishment and greet with a smile.
We have made an ongoing commitment to the professional service of alcohol beverages and the TIPS program. TIPS certified bartenders and servers allows you to have the confidence that your staff take a knowledgeable and proactive approach towards recognizing alcohol related problems before they occur, thereby preventing and minimizing alcohol misuse.
What are the TIPS benefits?
Increased overall staff professionalism when serving alcohol
Reduced exposure to alcohol liability lawsuits
Decreased penalties for alcohol violations
Lower insurance premiums
Safer communities through responsible alcohol consumption
Compliance with state and local regulations
Here are some of the duties of the bartenders:
Our bartenders make your guests feel welcome in the same way you would make an old friend feel welcome at home. They smile when the guests arrive and make sure they know you have pleasingly recognized their presence. If possible, the bartender suggest a seat close to others sitting at the bar. The overall focus is to make guests feel as if they are not strangers and should not act as such.
Bartenders need knowledge of a wide range of subjects, from sports to relationships to the local town. Travelers may ask general questions about Manhattan, corporate clients might ask about the subway lines, etc.. They should also know the fastest way to the airport, police station, or hospital; where bars or clubs are, especially if you're not in a club, and where the social elites hang out.
Just like any other service-oriented job, a good bartender has to make the best use of their time. It may be a slow hour between rushes – make sure their back-up well and bottle reach-in is stocked, garnishes are ready for the next rush, the ice tubs are full, and the glassware is cleaned and racked. Oh yeah – don't forget to wipe down your bar, back bar, and work trough under the bar once in a while.
Little things – making sure the garnish trays are full, keeping patrons out of their launch pads, and pulling their pours on priority will both make you their hero AND keep more customers happy.